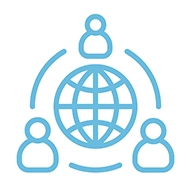 We understand that not all children naturally possess the ability to socialize and make friends. Some may face challenges in their social skills, impacting their participation in recreational activities and hindering their overall development. Our Social Skills Groups at MIND are designed to address these challenges and provide tailored support for children of different ages and abilities. These groups span over 6 weeks, with each week dedicated to teaching and practicing a specific social skill.
Our Approach:
We believe in the power of experiential learning, and our skilled therapists create an enriching environment where children can learn and grow together. to our fully-equipped gym and diverse range of resources enable us to offer engaging activities that promote teamwork, emotional understanding, and physical activity.
Benefits of our Social Skills Program:
At MIND, we are committed to empowering children to thrive socially, build meaningful connections, and confidently navigate the social world. Join our Social Skills Groups and watch your child develop essential life skills in a supportive and nurturing environment!