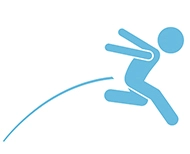 Pediatric Physical Therapy aims to enhance independence, promote motor development and function, increase participation, improve strength and endurance, facilitate learning opportunities, and alleviate daily caregiving challenges.
Our team of Pediatric Physical Therapists specializes in working with children from infancy through adolescence. We are committed to assisting each kid and their family in realizing their full potential in terms of functioning independently and actively contributing to the settings of the home, school, and community. Through evidence-based practices, integrating research and clinical reasoning, we evaluate and treat children with a focus on their unique developmental needs. Our expertise lies in child development, specifically in areas such as movement, gross motor skills, fine motor skills, posture control, balance, and coordination. We assess, diagnose, and create individualized treatment plans to address any concerns and support optimal outcomes for each child.
Why would your child need Physiotherapy?
Our Physiotherapy Approach
Our Physical Therapy department collaborates closely with a multidisciplinary team of therapists to ensure comprehensive care for your child. We take a holistic approach to therapy, considering the input and expertise of other professionals and clinicians in the review of your child's therapy plan and approach. This collaborative effort allows us to provide a well-rounded and integrated treatment experience.
Our therapy facilities are equipped with various resources designed to support your child's therapy journey. From our sensory integration room to our fully-equipped gym, we offer a range of therapeutic tools and equipment. Your child will have access to engaging and stimulating resources such as therapy balls, trampolines, sensory swings, standing frames, static cycle, walkers, weights, and more. These resources are carefully selected to enhance their therapy sessions and facilitate progress in their physical development.