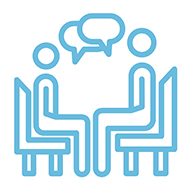 At MIND, our licensed psychotherapists are dedicated to assisting individuals in achieving emotional clarity and enhancing their capacity to engage in healthy, reciprocal relationships and intimate connections. Through a collaborative process within a safe and respectful environment, we aim to unravel patterns within your relationships and provide a positive therapeutic experience founded on mutual understanding and emotional clarity.
Couples seeking to strengthen their relationship may opt for pre-marital counseling. Within the framework of pre-marital counseling, our therapists support couples in gaining insights into their compatibility, perspectives, beliefs, and various other factors that contribute to a deeper understanding of each other.
Post-Marital Counselling:
This form of counseling is specifically designed for couples who are already married. Post-marital therapy sessions are accessible to all couples, irrespective of the duration of their marriage or its nature. Married couples encompass diverse preferences and thought patterns. At times, couples might encounter challenges in effectively communicating their emotions or viewpoints to each other, encounter disparities in their parenting strategies, or face issues concerning intimacy. Post-marriage counseling sessions are dedicated to addressing and resolving these concerns.
How does martial counseling work at MIND?
We recognize the pivotal role of education in the effectiveness of marital counseling. Our licensed therapists incorporate a psycho-educational component into their approach to ensure positive outcomes. With a conversational, compassionate, and holistic-minded approach, we guide you and your spouse in rediscovering yourselves and reaching your fullest potential. Our therapy sessions at MIND are designed to be welcoming and accessible, fostering a rewarding and enjoyable experience for couples seeking growth and transformation.
During our sessions, we will help you: